Nissan Juke Links
Sites of Interest
Error: The URL provided does not contain data in the expected format.
Nissan Juke Forum
Nissan Juke specs, reviews, performance, information, and discussion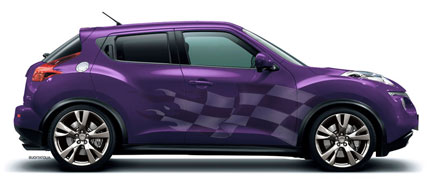 Introducing the 2012 Nissan Juke
The compact Juke crossover, which was inspired by the Nissan Qazana concept car, was designed and developed to give customers a sporty alternative to traditional small hatchback vehicles. The Nissan Juke is selling well - Pop into our forums and meet other Juke owners today!




Nissan Juke-R
What do you get when you take a quirky, oddball crossover and blend it with one of the world's fastest supercars?




JUKE in 3D
Stage JUK3D, an online module that gives users an incredibly immersive experience of discovering and driving the Nissan JUKE is released




Juke Breaks Records
Nissan Juke takes on Goodwood hill during the 2011 Festival of Speed and breaks a record...while on two wheels!




Juke ROCKS
NISSAN JUKE ROCKS is all about music. Four European bands will be given a series of challenges to complete, with the aim of creating the biggest online buzz.




Juke: Instant Hit
In just five short months, Nissan Juke has claimed a five star Euro NCAP safety rating, started winning several national awards and seized a significant share of small car market.




Juke Award
The all-new 2011 Nissan JUKE brought home top honors from this year's Texas Auto Writers Association (TAWA) Truck Rodeo winning the "CUV of Texas" trophy. Automotive media from across the state of Texas converged on the Knibbe Ranch in San Antonio this weekend to participate in the rodeo voting on their favorite trucks, SUVs and CUVs in approximately 20 categories.


Past Nissan/Infiniti Articles